Knowledge @ Noon - November 3, 2021
Topic: When You Can't Take Your Donor to Lunch
November 3rd, 2021, 12:00 pm - 1:15 pm
Zoom Meeting
Register by November 2nd, 2021
25 for Non-Members --- Members are FREE!
Topic: When You Can't Take Your Donor to Lunch
The Covid pandemic has thrown a curve ball to many core functions of philanthropy, including the traditional ways we connect with planned giving donors and prospects. Until last year, in-person legacy society events created a reliable platform for stewarding legacy donors, soliciting new planned gifts, and cultivating new prospects. Face-to-face meetings also played an important role in these efforts. But, even with vaccines, the Delta and other variants and general uncertainty about health, crowds, and travel require us to develop alternatives to face-to-face events and visits for a while.
In this session we will discuss different ways to adapt a planned giving strategy in the pandemic and post-pandemic landscape. We will focus on legacy recognition societies, marketing, loyalty donor outreach, and other techniques to maintain deep and meaningful connections with valued planned giving donors and prospects – even when you cannot take them to lunch.
Presenter: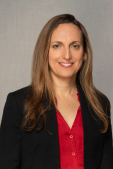 Stacy B. Sulman, J.D.
Vice President for Personalized Philanthropy and Legal Affairs
American Committee for the Weizman Institute of Science
Stacy B. Sulman, J.D., is the Vice President for Personalized Philanthropy and Legal Affairs for the American Committee for the Weizmann Institute of Science, where she has worked for over 12 years. Stacy also serves as President of the Philanthropic Planning Group of of Greater New York (PPGGNY). Previously, Stacy served as Associate Director and General Counsel for the Jewish Community Foundation of MetroWest, New Jersey.
Stacy teaches Planned Giving at New York University's Heyman School for Philanthropy and Fundraising, and speaks on various aspects of planned giving to local, regional, and national groups. She has also taught at the University of Arizona College of Law.  Stacy serves as a member of the Goucher College Hillel Board, and has also sat on the Board of Directors of Daughters of Israel Geriatric Center.
Stacy received her JD from the University of Arizona College of Law and her Bachelor's Degree from Bryn Mawr College. She also spent a graduate year at the Hebrew University of Jerusalem as a Raoul Wallenberg Scholar.
ZOOM MEETING:
Login instructions will be emailed to registrants the day prior to the event.*
*If you have registered and do not receive the link the day before the event, please contact our administrator at ADMIN@GCPGC.ORG or by phone at 513-554-3071.
Time:
12:00pm – 1:15pm    
Cost: 
Members – Free
Non Members – $25 – Click Here To Pay
Questions:
Ask Event Chair, Kathann Koehler at koehler@xavier.edu