Conversation & Coffee - Wednesday, October 19, 2022
Guest Presenter John Bromels
October 19th, 2022, 7:30 am - 9:00 am
Greater Cincinnati Foundation Directions
Register by October 18th, 2022
FREE
TOPIC: Life Hacks for Fundraisers: Simple Techniques for Difficult Donor Interactions 
PRESENTER: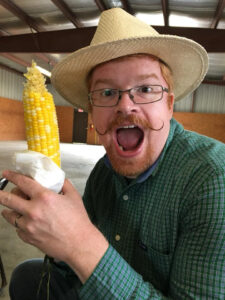 John Bromels
Immersive Experience Designer/Storyteller
Otherworldly Adventures LLC
John Bromels started his professional career as an actor, improviser, and playwright. He brought those skills to the fundraising world as Grants & Stewardship Manager at Cincinnati Playhouse in the Park, as Director of Development at ArtWorks, and as a freelance grantwriter for numerous local organizations. Now that he has begun his inevitable descent into madness, he pursues all kinds of cockamamie projects, including stock analysis and livestream hosting for The Motley Fool, puzzle and immersive experience design through his companies Puzzle Crawl and Otherworldly Adventures, and turning his basement into a medieval tavern. He is always thrilled to share his knowledge with the fundraising community: the true unsung heroes of Cincinnati's cultural landscape.
WHAT: Conversation & Coffee
WHEN: Wednesday, October 19, 2022
TIME: 7:30 AM Networking & Coffee; 8:00 AM Presentation
LOCATION:  Greater Cincinnati Foundation, 720 E. Pete Rose Way, Suite 120, Cincinnati, OH 45202
WHO: GCPGC members and guests
Cost:  Free for all attendees, thanks to our sponsor, The Fifth Third Foundation. 
Bring a colleague or board member to learn what the GCPGC is about…
If you do not receive an email confirmation of RSVP, please call 513-554-3071 to confirm your RSVP and report that the automatic response mechanism did not work for your e-mail.
Members of the 2022 Conversation & Coffee Committee are Amy Cheney of Crayons to Computers, Jeff Lydenberg of PG Calc and Conrad Thiede of Cincinnati Public Radio. For more information on upcoming Conversations and Coffee programs, please visit the Greater Cincinnati Planned Giving Council website at http://www.gcpgc.org.
MARK YOUR CALENDAR: Conversation and Coffee is hosted, typically, the 3rd Wednesday of each month.