2020 Voices of Giving Awards
August 6th, 2020, 5:00 pm - 7:00 pm
Register by August 3rd, 2020
FREE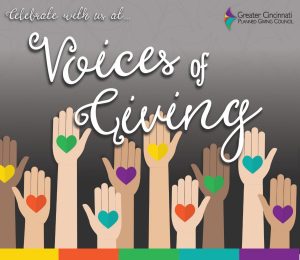 VOICES OF GIVING POSTPONED TO AUGUST 6, 2020
In the wake of the current novel coronavirus pandemic, the Voices of Giving committee has decided for the health and safety of our honorees, members, guests and volunteers to postpone the 2020 Voices of Giving Awards to Thursday, August 6, 2020.
This means there is still time to submit a nomination! We have extended the nomination deadline to Friday, June 12, 2020.
Online nominations for the 22nd Annual Voices of Giving Awards are now open!
We would like to open to floor and invite the members of the Greater Cincinnati Planned Giving Council (GCPGC) to nominate one, or more, individuals who fulfill the following requirements:
A benefactor who has included their organization in their estate plan,
A financial advisor who has played a significant role in their organizations planned giving efforts; or
A professional advisor who educates their clients on the benefits of leaving bequests to charity.
The deadline for submitting an online nomination is Friday, June 12, 2020. View a sample nomination here.
CLICK HERE TO SUBMIT YOUR NOMINATION TODAY!
The Voices of Giving Awards is an annual event that allows our GCPGC members to recognize the generosity and efforts of local philanthropists, who have made a bequest or other planned gift. We join in celebration each year to honor these philanthropic individuals who help to ensure the long-term welfare of so many of our local non-profits which make our community so special.
Not only does the ceremony allow us to shine a light on these special individuals, but it also presents us with a unique opportunity – through the event and media coverage – to share and educate the general public on the subject of gift planning.
We hope to see you there!
EVENT INFORMATION
DATE: 

Thursday, August 6, 2020

LOCATION:

CET

1223 Central Parkway

Cincinnati, Ohio 45214

TIME:

Cocktails and Hors d'oeuvres: 5 – 6 p.m.

Awards Ceremony: 6 – 7 p.m.
There is no charge for this event, but members and guests will be asked to make reservations beginning mid June 2020.
| | |
| --- | --- |
| Interested in becoming an event sponsor? |  If you or your organization would like to help honor these important individuals, we hope you will consider becoming a sponsor for this special event. |